International Alliance for Women in Music
Search for New Music Competition 
The Search for New Music Competition is open to women-identified composers that are current members of the IAWM.  The call for the 2024 Search for New Music Competition begins March 1, 2024.
The IAWM holds an annual composition competition for IAWM Members who identify as women and non-binary composers called the "Search for New Music by Women Composers," aka SNM. This international competition includes several prize categories ranging from chamber and orchestral works to electroacoustic media, improvisation, and sound installation. Each prize has its own monetary award. Membership in IAWM is required to enter, but contestants may join at the time of entry. Entries are anonymous. The SNM committee administers the competition, receives entries, selects judges, and publicizes the contest guidelines and the list of winners.
Submission Calendar
The submission period begins March 1, 2024.
The deadline for receipt of materials is 11:59 p.m. on May 7, 2024.
As this is an international call for scores, the deadline for submission is in your computer's local time zone. It is always better to submit well before the last day to avoid last-minute issues that might cause you to miss the deadline. There are no exceptions to this deadline.
Winners will be announced in August 2024
The IAWM website will have a complete list of winners shortly after the announcement date. A press release with biographical information on all the winners will be distributed.
Submit online at: New Music Engine.org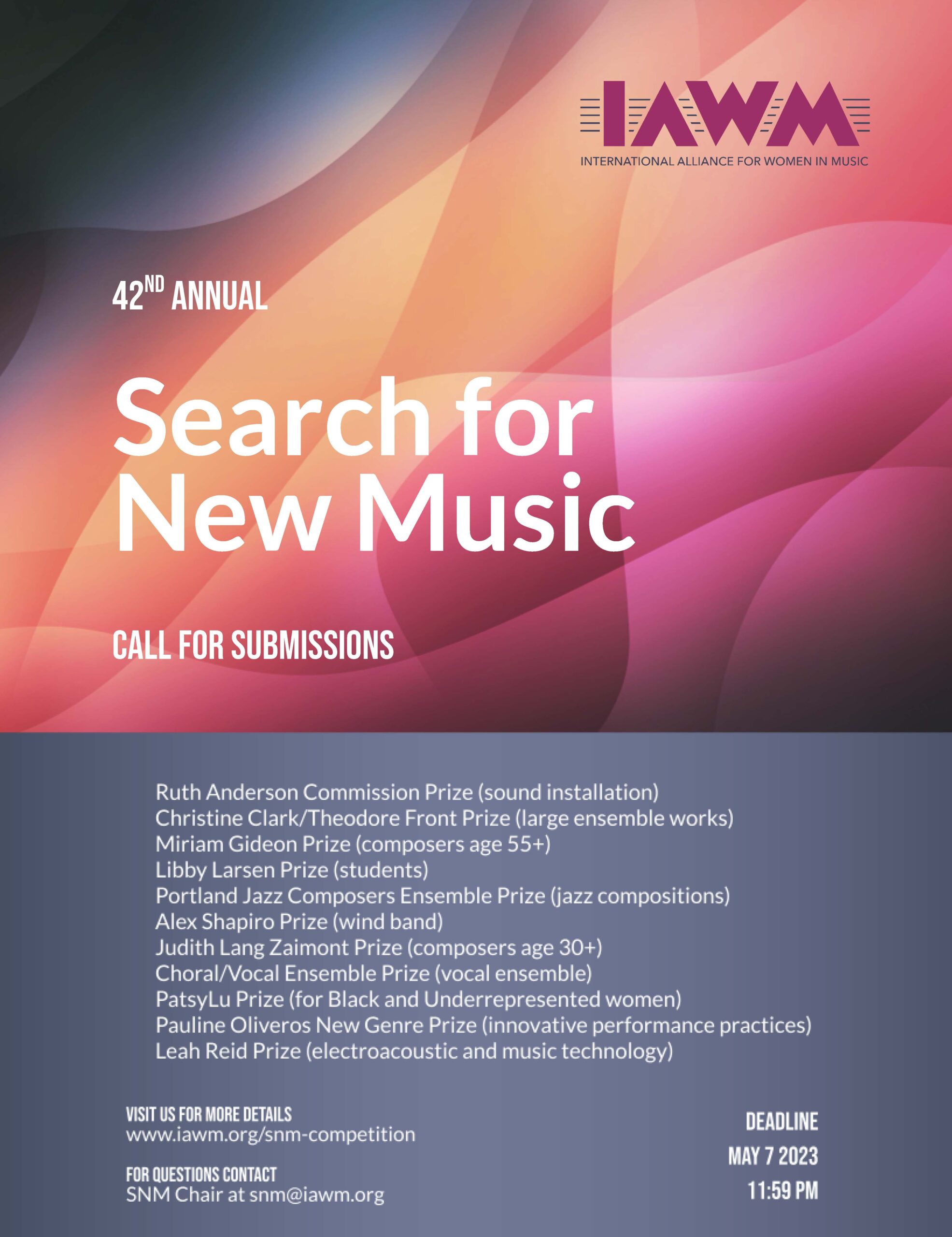 Categories
Ruth Anderson Commission Prize ($1,000)
Commission for a new sound installation with electroacoustic music.
To apply, submit a detailed proposal of the sound installation. The project should be an ongoing installation and not require a performance to be successful. The project must be completed within 12 months of notification of the award. The winner will receive the award money after submitting a report to IAWM following the public showing of the completed installation. Location of the installation may be, but is not restricted to, an IAWM annual concert or conference.
Christine Clark/Theodore Front Prize ($500)
Large chamber works (for 9+ instruments) and/or orchestral works; may include works featuring a soloist (vocal or instrumental).
Sponsored by Christine Clark of Theodore Front Musical Literature, Inc.
Miriam Gideon Prize ($500)
(minimum age – fifty) Works for solo voice with 1-5 instruments.
Sponsored by Patsy Rogers in honor of Lucille Goodman.
Libby Larsen Prize ($300)
(must be currently enrolled in school) Works for any medium.
Sponsored by Libby Larsen.
Portland Jazz Composers Ensemble Prize ($500)
Jazz compositions of any duration for small ensemble to big band (4-17 instruments).
Sponsored by the Portland Jazz Composers Ensemble.
PatsyLu Prize ($500)
(for Black and Underrepresented women) New music works in any form or instrumentation.
Sponsored by Patsy Rogers in honor of Lucille Goodman.
Pauline Oliveros New Genre Prize ($300)
Works incorporating innovative form or style, such as improvisation, multimedia, use of non-traditional notation, open instrumentation, or new performance practices. If no score is used, a description of the work and its inspiration should accompany the audio or video submission.
Sponsored by Claire Chase.
Alex Shapiro Prize ($500 and mentorship/consultation from Alex Shapiro)
Works of any duration for large ensemble wind band requiring a conductor, with or without soloist, acoustic or electroacoustic, published or as yet unpublished.
Sponsored by Alex Shapiro.
Judith Lang Zaimont Prize ($400)
(minimum age – thirty) Extended instrumental compositions—large solo or chamber works—by a composer whose music has not yet been commercially recorded or published.
Sponsored by Judith Lang Zaimont.
Leah Reid Electroacoustic and Music Technology Prize ($400)
Works of any style and length utilizing music technology, including, but not limited to acousmatic works, electroacoustic pieces, electronic compositions, or pieces featuring electronic instruments. If no score is used, a description of the work should accompany the audio or video submission.
Sponsored by Leah Reid.
International Choral/Vocal Ensemble Prize ($500)
Compositions of any duration for choral or vocal ensembe submission.
Sponsored by Elizabeth Momand and Andrea Clearfield
---
Requirements
ONE ENTRY: A composer or a composer collective may submit only one of their own pieces in any given year in only one chosen category.
MEMBERSHIP: If your membership is not current at time of submission and through the award timeframe, the work will be disqualified. To join IAWM or renew your membership, please click the "Join Now" button below.
ANONYMOUS SUBMISSIONS: Please upload an anonymous PDF file of the score and an anonymous MP3 sound file or a link to an anonymous video of the work. If a recording of a performance/reading is not available, MP3 files of MIDI realizations are acceptable. The score may not contain any identifying information. For the Ruth Anderson Prize, please upload your anonymous proposal as a PDF file in the PROPOSAL upload area. For all categories, please provide a short biography (maximum 200 words).
UNPUBLISHED WORKS: For all categories, except the Alex Shapiro Prize, the work submitted must be unpublished by a major publishing house and must have won no prior awards at the time of entry in the competition. Self-published works are allowed. For the Zaimont Prize, the work must also have no plans to be professionally recorded when it is submitted.
RESTRICTION FOR PREVIOUS WINNERS: Winners must wait two years after their last award to reapply for an SNM Award. For 2024, this includes winners of the 2022 and 2023 competitions. There is no restriction on submissions from those who received honorable mentions. IAWM reserves the right to withhold an award, should the judging panel so recommend.
Questions: Send questions to the chair of the SNM Competition, at [email protected].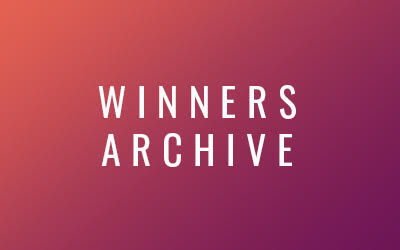 The International Alliance for Women in Music (IAWM) Archive of Winners (1982-2021).