International Alliance for Women in Music
2023 Search for New Music Winners
The International Alliance for Women in Music (IAWM) selected winners of its 2023 Search for New Music Competition.
The International Alliance for Women in Music (IAWM) is thrilled to announce the winners of its 2023 Search for New Music Competition. The competition recognizes the accomplishments of IAWM member composers and fosters IAWM's goal of increasing awareness of the musical contributions of women. IAWM hopes that performers around the world will see this as a resource for their own concert programming. This year we received 105 submissions from 17 countries.
Winners of the IAWM 42nd  Search for New Music Competition
Ruth Anderson Commission Prize ($1,000)
No eligible submission
Christine Clark/Theodore Front Prize ($500)
Winners (ties): Amy Brandon & Nicole Murphy   
Miriam Gideon Prize ($500)
Winner: Yiguo Yan   
Libby Larsen Prize ($300)
Winner: Addison Rider
Honorable Mention: Naama Perel Tzadok
Pauline Oliveros New Genre Prize ($300)
 Winner: Chi Wang   
Honorable Mention: Choral Douglas
Leah Reid Electroacoustic and Music in Technology Prize ($400)
Winner: Nikki Sheth
Honorable Mention: Yifeng Yvonne-Yuan 
PatsyLu Prize ($500)
Winner: Jiyoun Chung                                                  
Honorable Mention: Laura Mercado-Wright
Portland Jazz Composers Ensemble Prize ($300)
Winner: Meg Okura                                            
Honorable Mention: Tracy Young   
Alex Shapiro Prize ($500 and mentorship/consultation from Alex Shapiro)
Winner: Nadine B. Silverman  
Judith Lang Zaimont Prize ($400)
Winner: Annie Chapman Brewer 
Honorable Mention: Laura E. Millar 
Choral/Vocal Ensemble Prize ($300)
Winner: Andelena Jackson     
2023 Christine Clark/Theodore Front Prize

($500)
Sponsored by Christine Clark of Theodore Front  Musical Literature, Inc., for a large chamber work (for 9+ instruments) and/or orchestral works; may  include works featuring

soloists

(vocal or instrumental)
Winners (tie): Amy Brandon "Simularca" & Nicole Murphy "Present, Pat, Future"
Winner: Amy Brandon "Simularca"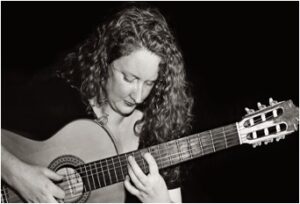 Composer and guitarist Amy Brandon's pieces have been described as "…gut wrenching and horrific" (Critipeg), and "otherworldly, a clashing of bleakness with beauty" (Minor Seventh). Her performances, installations andacoustic works have been presented at the Gaudeamus Festival (Screen Dive), National Sawdust (NYC), Trinity College (Dublin), and the Winnipeg New Music Festival. She has received Canadian and international composition awards and honourable mentions including the Leo Brouwer Guitar Composition Competition (Grand Prize 2019) and an East Coast Music Award 2022 for Composer of the Year. She teaches composition at Dalhousie University in Halifax, Nova Scotia.
A simulacra is a copy without an original. The term is prominently used in the study of semiotics (signs and symbols) but parallels can also be drawn with human behaviour. Sometimes we become simulacra ourselves—building and refining our simulated selves, metamorphosizing slowly into non-existence.  
Winner: Nicole Murphy "Present, Pat, Future"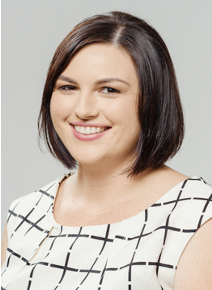 Australian composer Nicole Murphy's music has been described as "exquisite and sensitive" (Sydney Morning Herald), "strong and compelling" (Loudmouth) and "full of exhilarating tension" (Arts Knoxville). She has been commissioned by eminent arts organizations including the Australian Ballet, the Royal Academy of Dance (London), the Melbourne Symphony Orchestra, Experiments in Opera/Symphony Space (New York), Orchestra Victoria, Wild Rumpus (San Francisco), Chamber Sounds (Singapore), and the Definiens Project (Los Angeles). Her music has been performed by ensembles such as Alarm Will Sound, NOW ensemble, the Goldner and Dover Quartets, and has been programmed at numerous festivals, including the Mizzou International Music Festival, the Norfolk Yale Chamber Music Festival, the Dallas Festival of Modern Music, the Nief Norf Festival, the Risuonanze Festival (Italy), and the Vox Feminae Festival (Tel Aviv). Nicole teaches composition at the Queensland Conservatorium and holds a PhD from the University of Queensland. 
Present, Past, Future (2021-22) was commissioned for the Queensland Youth Symphony under the direction of Simon Hewitt. Movement I (Present) is based on the poem 'In the bus' from Fragments by Antigone Kefala, in which the author observes the fleeting nature of time. The second movement (Past) is inspired by Richard James Allen's poem 'The Road to Utopia', reflecting a raucous undoing of history. The final movement (Future) is based on Antigone Kefala's poem 'Metro cellist' from Fragments. This poem is a celebration of exuberant youthfulness and optimism for the future, reflected in the nature of the music. https://www.nicolemurphy.com.au/catalogue-of-works/present,-past,-future 
2023 Miriam Gideon Prize

($500)
Sponsored by 

Lucille Field Goodman

,

to a composer at least 50 years  of age for a work for solo voice & 1-5 instruments
Winner: Yiguo Yan  
Yiguo Yan, Research Assistant of Shanghai Conservatory of Music; Post-doctor of Shanghai Conservatory of Music, D.M.A in music composition from University of Missouri. Yan has received more than 20 composition prizes and fellowships include The First Prize of The American Prize, Professional Division in Opera Composition; The First Prize of Vienna International Opera Composition Competition; the First Prize of Shanghai New Music Week International Call for Score; Second Prize of Yichuang International Orchestra Composition Competition, Snow Foundation, Shanghai International Art Festival Foundation; Fellowships of China National Arts Fund, Brevard Music Center, Cortona New Music Sessions, the American-Fontainebleau School, etc. Yiguo Yan's music has been played in 30 cities around the world, played by International Contemporary Ensemble, New York University Zen Arts Concert, Brandeis University New Music Center, Brevard Music Center, Zhejiang Symphony Orchestra, China Film Orchestra, Snow Foundation, Opera 180, Johnson County Library, Shanghai New Music Ensemble etc.
The ensemble piece Ladder of Heaven is composed by two sets of highly separated materials: one is a ladder of heaven composed of overtone chords, and the other is a split and struggle composed of medium and low ranges thick harmonies and the splicing of cross sound streams in the high range. The continuous integration of high and low dimensions in development symbolizes the mental state of artists straggling to climb to their dreams. At the climax of the piece, all five instruments that rose to very high range begin to collapse rapidly, just like a hard-working art disappeared in an instant. Ladder of Heaven is intended to show the psychological dilemma of contemporary artists and the looming ladder leading to the artistic ideal country. 
2023 Libby Larsen Prize

($300)
Sponsored by Libby Larsen, to a composer who is currently enrolled in school for a work in any medium
Winner: Addison Rider "Nodus Tollens – String Quartet"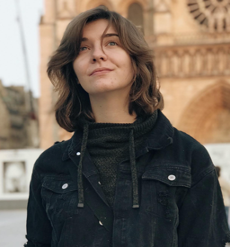 Addison Rider is a composer and musician residing in Philadelphia, PA. Beginning in pop and rock, Rider started her musical journey at fourteen years old. As a self-taught musician, she was involved with various musical projects, most notably as the primary songwriter, booking agent, creative director, and overall management behind Indiana alt. rock group For The Fire from 2015-2019 and as the bassist and contributing songwriter for Philadelphia underground rock trio Johnny Football Hero (2020-present). In the midst of lockdown during the COVID-19 pandemic, Rider decided to return to college as a non-traditional student to further her knowledge of music theory, harmony, and counterpoint and has since been pursuing her composition studies full-time with Professor Paul J. Geissinger, as well as musicianship studies with composer Roberto Pace. She plans to continue her education in music composition at a four-year institution after obtaining her associate's degree in the spring of 2024. www.addisonrider.com 
Titled "Nodus Tollens," a term coined by the Dictionary of Obscure Sorrows, this string quartet encapsulates the stages of recurring thought spirals. "Doldrums," the first movement, commences with a melancholic adagio that cyclically crescendos and recedes, conveying frustration and dissatisfaction. The subsequent movement, "Penitence," employs delicate pizzicato and compound meter to express the bittersweet humility of desiring improvement amid confusion. The final movement, "Ad Meliora," shifts toward optimism with brighter tones, reimagining motifs from prior movements. Overall, the quartet navigates the journey from feeling lost to aspiring for better days, echoing the essence of its Latin title's translation, "toward better things."
Honorable Mention: Naama Perel Tzadok "Raw (Gelem)"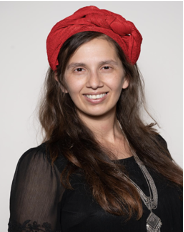 Naama Perel Tzadok was born in Israel, in 1984. For over a decade now she has been performing and writing original contemporary music for diverse media. She is inspired by many sources: Nature, current events, plastic art, and more. She is searching and expanding the borders of musical styles and traditions, especially her roots in Yemenite and Tunisian music. Her music is being performed in Israel and around the world. Naama Perel-Tzadok was recently selected by the "Ha'aretz." Newspaper as one of the most promising composers in Israel. Her substantial piece, "Memory Traces" was published and released as an album in June 2023. Currently a Ph.D. student in Music Composition and Theory at the University of Pittsburgh, PA.
The piece "Raw" ("Gelem") is exploring the sound and acoustic space, as well as the physical space, of the performers. Accompanied and enveloped by piano, guitar, and bass clarinet, the three string players, set in a triangle, are moving from one position to another, struggling to define and claim their acoustic identity on stage. Each time that one of them is in the front, they bring their unique sound and character, trying to break the traditional ensemble format, emerge from their close relationship with each other, and express their individuality. The piece was inspired by the work of the Israeli poet Yali Shner.
2023 Pauline Oliveros New Genre Prize 

($300)
Sponsored by 

Claire Chase, for works incorporating  innovative form or style, such as improvisation, multimedia, use of non-traditional notation, open  instrumentation, or new performance practices
Winner: Chi Wang "Action-Reaction"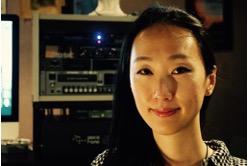 Chi Wang is a composer and performer of electroacoustic music. Her research and compositional interests include sound design, data-driven instruments creation, musical composition, and performance. Chi's compositions have been performed internationally including presentations at the International Computer Music Conference, New Interfaces for Musical Expression, Musicacoustica-Beijing, the Society for Electro-Acoustic Music in the United States Conference, the New York City Electroacoustic Music Festival, Kyma International Sound Symposia, Electronic Music Midwest Festival, Third Practice Electroacoustic Music Festival, Electroacoustic Barn Dance, Portland Biennial of Contemporary Art, I. Paderewski Conservatory of Music in Poland, International Confederation of Electro-Acoustic Music, and WOCMAT in Taiwan. Chi's compositions were selected for SEAMUS CD, Best Composition from the Americas from International Computer Music Conference, and Award of Distinction from MA/IN festival. Chi received her D.M.A. at the University of Oregon and is currently an assistant professor of music (composition: electronic and computer music) at the Indiana University Jacobs School of Music. 
Action-Reaction In classical mechanics, Newton's third law of motion states that for every action, there is an equal and opposite reaction. The action and reaction form a single interaction, they are simultaneous and neither force exists without the other. In this composition, the GameTrak's retractable tethers interact with the performer's push, pull, release and free movements. Each time the performer releases the tethers, they are retracted back to the rest state, creating a predictable yet unique realignment path each time. The data measured from the physical movements are mapped to control various parameters, creating musical expressions that are both superimposed and nuanced. The performer, sound producing engine, and the concert venue can be virtually connected from three different physical locations, producing the composition via network.
Honorable Mention: Choral Douglas "Open into Wings" 
Coral Douglas (b. 1999) is a composer and multi-instrumentalist, focusing on aesthetics, semiotics, and communication. As a composer, Douglas' focus lies within stylistic plurality, owing much of their musical ideas to the shared space between the Aesthetic and the Unknown. Resulting compositions seek to reinvent traditional linear models by placing value in the role of expectation. Coral places high value on composer-performer collaboration, which gives room for collective creativity and a candid, feedback-informed process. Douglas' music has been played by ensembles and soloists such as loadbang, the Rhythm Method, the Trace Chamber Society, Dawn Upshaw, Xak Bjerken, and the International Contemporary Ensemble. Douglas has had performances in spaces such as the Vienna Summer Music Festival, the Washington State University Festival of Contemporary Art Music, the MMRC/MARC Festival at the University of Kansas, Walden's Creative Musicians Retreat, and the Flyover Concert Series. Coral is the recipient of the 2022 Ida M. Vreeland Award in Music, as well as the 2020 John R. Hines Award.

Beyond composition, Coral is active as a photographer, songwriter, and visual artist. Having served as a youth choral conductor and private lesson teacher, Coral firmly believes in the necessity of accessible, diverse music education.
Program Note: We know it's getting warmer. Earth's temperature has risen by an average of 0.14 degrees Fahrenheit per decade since 1880, or about 2 degrees Fahrenheit in total, according to NOAA. As the arctic sea ice continues to decrease in mass, and as carbon in our atmosphere increases, we are confronted with high-stakes, rapid change. In such an unobservable yet dire situation of transformation, it is quite difficult to maintain an internal worldview built on stable, unchanging values and beliefs. Moreover, in an age characterized by increasing wealth inequality, questions about agency and responsibility gridlock the individual from the ability to enact effective systemic change. Still, such an age must be felt, must be reckoned with. From climate activism to climate denial and climate apathy, the Human sporadically organizes their thoughts according to what they can bear to accept as true. open into wings plays with styles, aesthetics, textures, feelings, and moments, to reconcile the vast number of mutating moment-to-moment experiences and reflections that shape our connection to this dire, unavoidable issue. 
2023 Leah Reid Electroacoustic and Music Technology Prize 

($400)
Sponsored by L

eah Reid for

works of any style and length utilizing music technology, including, but not limited to acousmatic works, electroacoustic pieces, electronic compositions, or pieces featuring electronic instruments. If no score is used, a description of the work should accompany the audio or video submission
Winner: Nikki Sheth "Windmills of Lapua"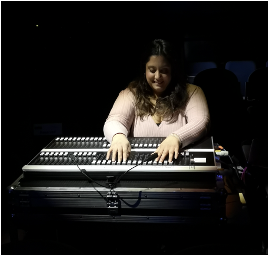 Nikki Sheth is an internationally recognised sound artist and  composer. Her work aims to give voice to the environment and foster a deeper connection with the natural world through field recordings, soundscape composition, multimedia installations, and sound walking using multichannel and ambisonic spatial practices. She was awarded a Sound and Music award (2020), nominated for the Phonurgia Nova Awards (2020), received an Honourable Mention for the Sound of the Year Awards (2021), nominated for Ivor Novello Composer Award (2021) and awarded a Sound and Music Seed Award for New Voices (2022). She recently collaborated on the 'Disruptive Frequencies' album released with Nonclassical and her debut album, 'Sounds of Mmabolela' was released with Flaming Pines in 2021. She is currently a Sound UK Sound Generator Artist.
"Direct impacts of wind farms can include collision and barotrauma (damage to tissues from air pressure changes around turbines); indirect impacts can include habitat loss (roosts, commuting routes and foraging areas) and fragmentation." (Bat Conservation Trust, 2023)
Program Note: This piece comments on the impact of wind farms on the bat population. It uses field recordings of windmills taken in Lapua, Finland using microphones that pick up normally inaudible frequencies (such as contact and electromagnetic mics), combined with various field recordings of bats. Originally, the piece explored the use of field recordings with the 3D IKO loudspeaker and investigated how a sense of place can be created using a speaker that projects sound from the inside outwards using the sound reflections of the performance space. This work was made possible thanks to the Develop Your Creative Practice grant from Arts Council England. https://soundcloud.com/nikki_sheth/windmills-of-lapua-binaural
Honorable Mention: Yifeng Yvonne-Yuan "I saw a Butterfly Nestled in a Bell"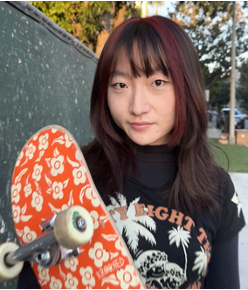 Yifeng Yvonne Yuan transmutes the frequency of her sock losses into pitch frequencies; she measures raindrop weights to decide her noteheads' mass. She is an acoustic/electronic composer, performer, and media artist. Born and raised in China, she resides now in Southern California. Yvonne is currently pursuing a Ph.D. in Music Composition at UC Santa Barbara, studying under the guidance of Joao Olivera, JoAnn Kuchera-Morin, and Curtis Roads. She is also a master's student in the Media Arts and Technology department. Yvonne holds a master's degree in music composition, alongside bachelor's degrees in Sociology and Musicology from University of California, Los Angeles. Yvonne writes music for both electronic and acoustic instruments. Her music draws inspiration from the ritualistic practices of early human beings. She channels the transient and vulnerable experiences inherent to human existence in her works. Sound and poetry are currently her primary mediums of artistic expression. 
"I Saw a Butterfly Nestled in A Bell" is a two-channel acousmatic work inspired by an experience of ringing a giant bell at a Buddhist temple. "Could there be creatures living inside the bell? Did I just wake them up from their extended dormancy?" A series of questions became the foundation that guided me through the work. The majority of the sound materials are recorded sounds that have been chopped up, granulated, reshaped, and transformed into the weightless scales on the opalescent wings, the rustling whispers beyond the threshold of the audible, and the rise and fall of life cycle in the giant bell.  
2023 PatsyLu Prize

($500)
Sponsored by 

Patsy Rogers and Lucille Field Goodman, for new music works in any form or instrumentation by Black and underrepresented women
Winner: Jiyoun Chung "Freestyle Battle"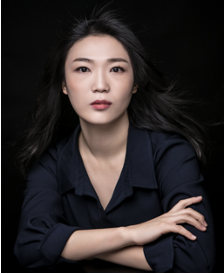 The work of pianist/composer Jiyoun Chung has received many distinctions and awards and is often heard in international festivals and concerts. Her interest in composition lies in encompassing various cultural influences in her works. The wealth of inspiration derives from East Asian culture, and other inspiration comes from various musical portraits and genres such as
K-pop, jazz, musical theater, hip-hop, street music, and world traditional music. Languages, structures, timbres, and vocabularies from those different musical arts have expanded her musical palette, which helps to speak to a broad range of audiences. Chung received her BM in Composition from Hanyang University in South Korea, and MM in Composition and Piano Performance from Illinois State University, studying with Carl Schimmel and Martha Horst. She received her DMA in composition at the University of Missouri-Kansas City, where she studied with Chen Yi, Zhou Long, and James Mobberley. Currently, she is an Assistant Professor of Music at Central Washington University. 
I wrote Freestyle Battle for Clarinet, Violin, Cello, and Piano, after I watched a B-boy dance battle in 2021. I found what b-boys do is very similar to what we do in chamber music, which fascinated me. They play with different textures like unison, solo, homophony, and polyphony, they have a canon, improvisation, cadenza, techniques, and artistry. Everything seen and heard in chamber music was there. So, I studied their movements a little deeper, then started writing this piece, musically depicting and re-interpreting their movements such as toprock, downrock, power moves, and freeze. Throughout the piece, the listeners will hear the musical reinterpretation and reimagination of the movements of breakdancing.
Honorable Mention: Laura Mercado-Wright "Smile" 
Laura Mercado-Wright began composing in the spring of 2020, duringa difficult break from a full-time career as a multi-genre vocalist. Inspired by VAMP, a newly formed quintet of female singers of which she is a member, Laura has written several pieces for acapella voices, including her first commission by the Austin-based new music collective, Here Be Monsters. She performs and records regularly with Conspirare, and has appeared with other acclaimed ensembles including The Crossing, Seraphic Fire, Vocal Arts Ensemble, Artefact Ensemble, VAMP, and the MET Chamber Orchestra in her Carnegie Hall solo debut. Laura has premiered solo works by several renowned composers including Charles Wuorinen, Lembit Beecher, Julia Wolfe and Caroline Shaw. She made her Austin Opera debut in 2021 as the Teacher in their brand new production of The Revolution of Steve Jobs. In addition to performing, Laura is owner and executive director of Tinsel, a professional company of vocal jazz singers based in Austin, TX.
This piece developed out of an honest and spontaneous question that popped into my head one day: Why do we always smile? […] I wanted to explore the possible responses, if we did not bend to social norms and expectations. This lead me into a dark fantasy, filled with gnashing teeth and carnage. I wanted to hint at the deep resentment and power that can be repressed behind our smiles, and also celebrate the grace and patience we exercise in not resorting to more extreme responses to the casual misogyny we experience on a daily basis. The barbershop-inspired style is meant to root the piece in gentile, polite society, juxtaposed with the menacing intent of the text. 
2023 Portland Jazz Composers Ensemble Prize

($300)
For a Jazz composition of any duration for small ensemble to big band (4-17 instruments) 
Winner: Meg Okura "Sushi Gadol"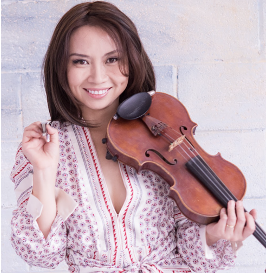 A Tokyo native, Meg Okura is a Grammy-nominated violinist and acclaimed jazz composer residing in the Bronx, NY. She moved to the U.S. and made her solo debut at the Kennedy Center at 19. A Juilliard graduate in violin, Meg Okura underwent a transition to jazz, sharing stages worldwide with luminaries including Michael Brecker, Steve Swallow, and Tom Harrell. She is the founder of the Pan Asian Chamber Jazz Ensemble, featured at venues such as Birdland Jazz Club, Jazz At Lincoln Center, and Blue Note New York. With a discography of nine albums, including "Ima Ima" and "Naima," she has also contributed her musical prowess to over 100 projects. Meg has received awards, including ISJAC, BRIO, Jazz Road, NYC Women's Fund, New Music USA, and Chamber Music America. The world premiere of her latest commissioned piece will occur at the International Society of Jazz Arrangers and Composers' 2024 International Symposium in Montreal, performed by the Orchestre national de jazz de Montreal.
"Sushi Gadol" is a composition written for my 10-piece Pan Asian Chamber Jazz Ensemble, featuring violin, flute, bass clarinet, trumpet, trombone, harp, electric guitar, piano, bass, and drums. Sushi Gadol means big sushi in Hebrew, and this piece is a tribute to my big brother Yasushi, fondly nicknamed Sushi. This piece was completed while in residence at Copland House, Cortlandt Manor, New York, as a recipient of the Copland House Residency Award.  
Honorable Mention: Tracy Yang "Melting Arctic"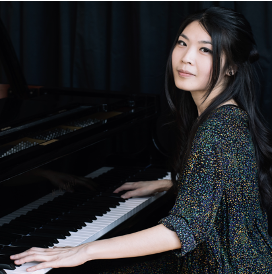 New York-based jazz composer and pianist Tracy Yang (楊又臻) was born and raised in Taiwan. She has worked with various jazz ensembles, including The Army Jazz Ambassadors, BMI/New York
Jazz Orchestra, SWOJO, and Taipei Jazz Orchestra. Her works have earned her several composition awards, including the Charlie Parker Jazz  composition Prize, JEN Young Composer Showcase Selectees, Winner and Honorable Mention of Seattle Women's Jazz Orchestra's composition contest. Additionally, Tracy has been a grant recipient from institutions such as New Music USA, New York Foundation for the Arts, and The Queens Council on the Art, to name a few. Yang also serves as a dance accompanist at several prestige dance companies, including Martha Graham, Paul Taylor, Mark Morris, Juilliard School, DTH, and NYTB. She released her first EP, "The 217 Diaries" in early 2021 and is hard at work on her upcoming jazz orchestra album "OR." 
"Melting Arctic" is Tracy's heartfelt reflection on the human impact on Arctic species, urging listeners to reevaluate their environmental decisions and foster a deeper connection with the natural world. 
2023 Alex Shapiro Prize

($500 and mentorship/consultation from Alex Shapiro)
Sponsored 

by Alex  Shapiro, for a work of any duration for large ensemble wind band requiring a conductor, with or without  soloist, acoustic or electroacoustic, published or as yet unpublished
Winner: Nadine B. Silverman "Hope Through the Dark"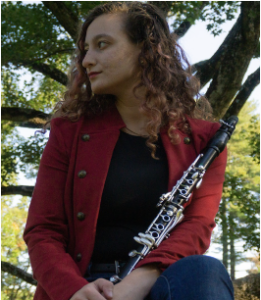 Nadine Silverman is a composer-performer from Franklin Park, New Jersey. She has studied clarinet performance, composition, and music theory at West Chester University's Wells School of Music and Rutgers University's Mason Gross School of the Arts, where she is currently employed as a lecturer of aural skills. Nadine also performs with Pennsylvania Chamber Winds and the Nimbus Clarinet Quartet.  As a composer, Nadine has written for the Rutgers University Wind Ensemble and Concert Band, the Albion College Symphonic Wind Ensemble, Voix de Femmes Clarinet Quartet, Pennsylvania Chamber Winds, and many other individual performers and chamber groups. Her music explores the depth of human emotion and how we interact with the physical world around us. Nadine's versatility and skill as a composer-performer have been showcased through the performances of her own works throughout the world, including a recent premiere at the 50th annual International Clarinet Association ClarinetFest in Denver, CO. 
Hope Through the Dark is about healing. At times it feels like there is no end to the incessant darkness, be it grief, trauma, or any emotional pain. Other times, the dark comes out of nowhere, even when it seems that light has finally won. Some days, it might feel like the ability to feel emotions at all has disappeared.  Throughout the piece, there are musical dualities between insecurity and confidence, regression and progression, bad days and good days. These are represented musically through shifts in tonality, articulations, meter. It is extremely emotional, but it is precisely the persistence of that emotion and our ability to experience it that brings hope through the dark. https://youtu.be/gSiIrxGEPAs
2023 Judith Lang Zaimont Prize

($400)
S

ponsored
 by Judith Lang Zaimont, for an extended instrumental  composition—large solo or chamber works—by a composer at least 30 years old whose music has not  yet been recorded or published 
Winner: Annie Chapman Brewer "River House on the Prairie"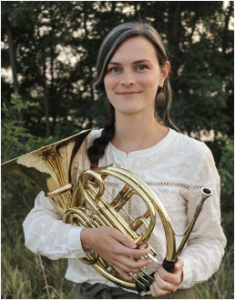 Annie Chapman Brewer is a small-business owner, educator and musician based in Midland, MI. Brewer operates a full-time, private lesson music studio, serving clients of all ages and backgrounds. In the fall of 2022, Brewer became the horn professor at Saginaw Valley State University. As a performing artist, Brewer has performed in regional orchestras and chamber ensembles across the Midwest, including the Midland Symphony Orchestra, Saginaw Bay Symphony Orchestra, Marquette Symphony Orchestra, Waterloo-Cedar Falls Symphony, and Orchestra Iowa. Brewer has also accompanied award-winning acts such as Johnny Mathis, the Des Moines Metro Opera, and Celtic Woman. When Brewer is not teaching or performing, you can find her making a cup of Oolong, tending to her garden, and playing with her cat, Marjoram. Learn more about Brewer by visiting her website: anniechapmanbrewer.com. A full recording of River House on the Prairie for Solo Horn and Wildlife Accompaniment can be found here: https://www.youtube.com/watch?v=-ko1vFEBvmA
Program Note: This piece was inspired by my residency at Whiterock Conservancy in western Iowa. My journey begins hiking through savannahs, riverbanks, and wild prairie landscape; hearing a conglomeration of birds singing their songs of spring. These burr oak giants reminded me of the Ents from Lord of the Rings, where they are slow moving, yet full of ancient and articulated wisdom.  Grace notes are flickering flames. Repetitive rhythm is an alert. Setting fire to the landscape is an essential part of nutrient dense soil. The ashes smolder from rain and I specifically "stop" my horn to provide a very somber texture. I open up my hand in my bell, where the sound of leaves unfurl. The birds celebrate: spring is here. Spring peepers sound their call. We all sing and dance with delight. The adagio section winds me down into an evening of reading.  At midnight I'm startled awake with the cawing of the barred owl. Back to sleep I go, playing the lullaby under the stars. The next day, it's coffee and porch time, and another day of adventure in the wilderness.  
Honorable Mention: Laura E. Millar "Stages of Light"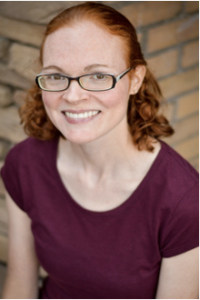 Laura Millar is an Ohio-based performer and composer. As a freelance artist, Laura has played for local orchestras, churches, and also enjoys playing cornet in the Central Ohio Brass Band. She has a bachelor's degree in music education, a master's degree in performance, and is a member of the International Women's Brass Conference and the International Alliance for Women in Music. Laura was also a 2022 participant in the Westben Performer-Composer Residency program. Her compositional work focuses on music for solo trumpet (often with electronics) and trumpet ensemble. She describes her style as ambient-inspired, writing pieces that are slow, melodic, and highly expressive. Her hope is that her music brings people whatever it is they need in the moment.   
Stages of Light, 4 continuous movements for trumpet ensemble and electronics, was inspired by the way the sun and sky change throughout the day; how each change is beautiful and full of wonder, yet different. These light stages are represented in the mood of each movement but also in the changing instrumentation. Dawn ("Rise") begins the piece as a trumpet solo, representing the quietness of waking. Day ("Shine") is the peak of energy in the piece with three trumpet voices. Dusk ("Glow") uses only one flugelhorn and one trumpet, quieting the energy. Finally, Night ("Lullaby") is the peak of peacefulness – a gentle flugelhorn solo, slowly lulling all to sleep. The movements are unified with a meditative, drone-based electronic track.  https://youtu.be/4fh63c8rhIU 
2023 Choral/Vocal Ensemble Prize

($300)
Sponsored by 

Andrea Clearfield and Elizabeth Momand for the compositions of any duration for choral or vocal ensemble
Winner: Andelena Jackson "Thoughts"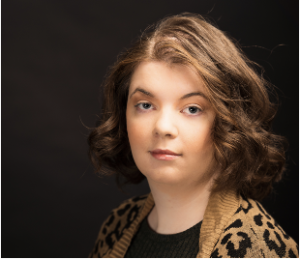 Andelena G. Jackson is an aspiring American composer hailing from Hagerstown, Maryland. She completed her B.A. in composition at Shepherd University in May of 2021. Her experiences in music performance and music composition began at the age of two. However, she didn't start pursuing a career as a composer until her Junior year of high school. She particularly enjoys writing for symphony orchestra, but she has also written for solo instruments, chorus, chamber ensembles, concert band, and other settings. She was also the winner of the CATF 30th Season Opening Fanfare Competition at Shepherd University and the 2023 Her voice Choral Competition, as well as a finalist in the Lowell Chamber Orchestra 2023 Call for Scores. She participated in the 2023 SCI VIII Regional Conference and 2023 Tonal Composers Festival held in Brasilia, Brazil. 
Thoughts was composed with the idea of a stream of consciousness in mind. It twists and turns, with quick, fleeting notes of throwaway ideas and long pauses, as if deep in thought. The poem this piece was based on questions the minds of mankind, a message of equality in that no man is above their own thoughts. 
Adjudicators
Special thanks to the adjudicators Stephen Yip, Naima Burrs, Tim Thompson, Ivan Elovic, Lauren N. Clare, Katelyn Halbert, June-Hee Lim, and Xavier Beteta. Moon-Sook Park served as chair of the competition.